April 5, 2019 – Last evening, at the Turning the Tide Marine Industry Awards Gala in St. John's, NL, Fraser Edison was honoured for his contributions and leadership in the marine industry in Newfoundland and Labrador. Mr. Edison, president of Rutter Inc., accepted the Industry Lifetime Achievement Award. This annual award celebrates an outstanding individual who has demonstrated exemplary leadership and contributed to the betterment of his or her industry.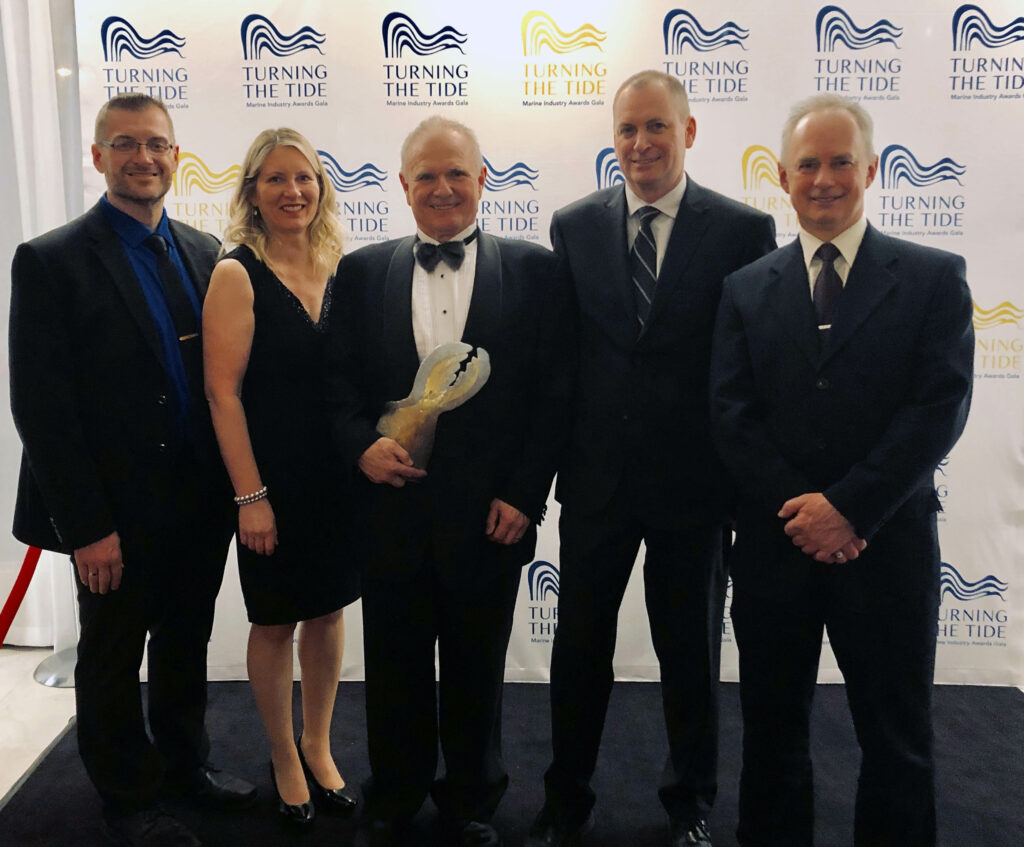 Mr. Edison's career in the marine industry includes extensive experience in finance, construction, oil & gas, and transportation management. He was involved in a joint venture that built the Gravity Based Structure for the Hibernia Project, and the Terra Nova Floating Production and Offloading System for Petro-Canada. His international marketing skills have contributed significantly to local industry growth in the global arena, gaining partnership recognition and contracts outside Canada with firms such as Brown and Root (USA), DORIS Engineering (Paris, France) and Vinci Corp (France).
As Rutter Inc.'s President, Mr. Edison has had his hand on the wheel as this innovative marine technology company navigated its way to become a major player in the global specialty radar market with a presence in more than 40 countries.  Rutter has achieved significant market growth under his leadership.
Despite his early and continuing success, Mr. Edison actively sought out ways to give back to the community. He was a founding member of the Newfoundland & Labrador Oil & Gas Industry Association (NOIA). He was a member of the St. John's Rotary Club, and provided many years of committed service to Easter Seals, and other deserving local charities.
Mr. Edison has been very active helping to build the local business community.  He is currently serving as a board member of the Newfoundland and Labrador Liquor Corporation, Newfoundland and Labrador Hydro, and the Canadian Government's AIF Advisory Board for the Atlantic Canada Opportunities Agency. He is a former president of St. John's Board of Trade, former chair of St. John`s International Airport Authority, the Genesis Centre Selection and Review Board and the Research and Development Corp., a Crown agency.
Mr. Edison has also received provincial and national accolades. He was awarded the Government of Canada Medal 125 for achievement in community service. He was also awarded the Queen Elizabeth II Diamond Jubilee Medal. NOIA has singled him out for the Outstanding Contribution Award. As well, he is proud of his induction into the Junior Achievement Newfoundland & Labrador Business Hall of Fame. They credited him with outstanding leadership and an innovative approach to business that has had such a positive impact on the economy.
Congratulations to Mr. Edison on this significant achievement, as well as all the award winners of the night:
Industry Leadership and Excellence Award – Oceanex Inc.
Award of Historical Marine Significance – CBC Land and Sea
Innovation Leadership Award – Kraken Robotics Systems Inc.
About Rutter Inc.
Rutter Inc's signal processing, recording, and playback capabilities integrate with navigational or dedicated-purpose marine x-band radar assets to provide enhanced situational awareness. This technology helps promotes safety, security, and efficiency in the challenging marine environment. Signature products include the sigma S6 Oil Spill Detection, sigma S6 Small Target Surveillance, sigma S6 Ice Navigator™, and the sigma S6 WaMoS®II Wave and Surface Current Monitoring systems.
For further information contact:
Stephen Hale
Vice President – Rutter Inc.
+1 (709) 697-0439
[email protected]